Thursday March 03, 2011
Past Dialog »
Greetings from the Pow Junkie
So let's just start of with an admission – I am a bay area desk jockey. There is no hiding that fact. I spend my days in meetings and on conference calls, sending emails, and doing very tame, downright boring stuff. So, when it comes to the weekends, especially in the winter, I'm ready to charge. I've been a passholder at Kirkwood for 18 years now and love it. Why Kirkwood? Well, for what I like – deep, light powder and fun technical terrain, it doesn't get much better. Oh, and the other reason I like Kirkwood is that the vibe is great. Kirkwood attracts people who are there for no other reason than the skiing. And those people are usually feeling pretty great when I see them on the mountain.
My general M.O. at Kirkwood is to get after it. If it's a powder day, you'll find me waiting in line at 8am for first chair at Chair 6 (yes, even when driving that morning from the Bay). You'll find me hiking up and over the Sisters to get first tracks down Once-is-Enough. You'll find me making turns right against the Palisades boundary line. And, when BC access is open, I'll be hiking out to West Shore, Thunder Bowl, and other places that I'm not going to mention.
I'm going to be posting pics, vids, and stories of my KW adventures here for the remainder of the season, so check back for more stoke. Here are a few to start off with from last week:
Last Saturday 2/26 Recap: 38 inches of fresh in 24 hours, -4 degrees pulling into KW parking lot at 7am, sunny skies, all lifts closed the day before. Yes, "epic" is a word that comes to mind.
The view of Thimble Peak looking gorgeous in the morning:
Looking back at my first tracks down Once is Enough (I hiked from chair 6 before 10 was open. Oooohhhhh buttery):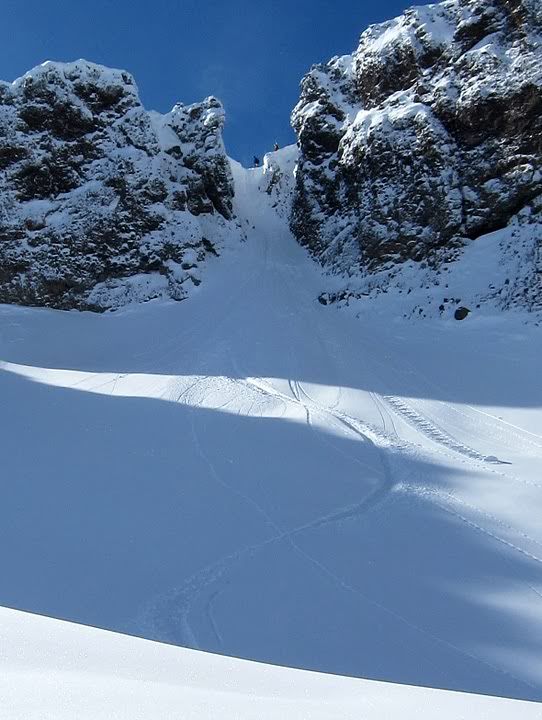 My buddy Seth catching a bit of air in Thunder Saddle (stomp it Seth!):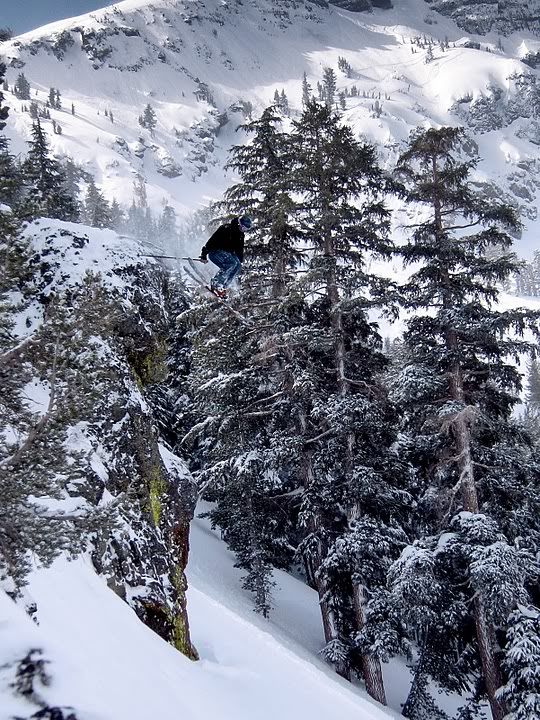 And here's a little POV vid courtesy of Skier666 (don't miss those upper Cham's lines at 1:23):
Stormin' the Boredom of a Californian Skier from skier666 on Vimeo.